Last Sunday, an attempt on HENRIQUE CAPRILES RADONSKY's life, candidate to the Presidency of Venezuela, who will be running against current President Hugo Chavez in the next October 07, 2012 elections, was aborted.
NOTE: In the photos shown in the above link, the men and women in RED SHIRTS are CHAVEZ'S FOLLOWERS…
The bullet that was fired against Capriles penetrated the right forearm of one of his main followers, Ismael Garcia Junior, son of Congressman, Ismael Garcia Senior. Both, father and son, are personal friends of Capriles and collaborators in his presidential campaign.
Ismael Garcia Jr. – who's already out of danger — when the unfortunate incident happened, was very close to Candidate Capriles, at a rally that took place in the sector of Cotiza, in the District Capital of Caracas.
Cotiza is a barrio considered Chavista territory. None-the-less, many people from the area with great enthusiasm came out of their houses and stores to welcome Henrique Capriles Radonsky,  a well known and much loved Governor from the state of Miranda – one of the most important states of Venezuela — and former Mayor of the district of Baruta.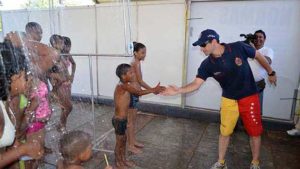 Both, as governor and mayor, Capriles has done an extraordinary job. He has created numerous health and educational centers, as well as housing complexes, mainly  to favor low income families.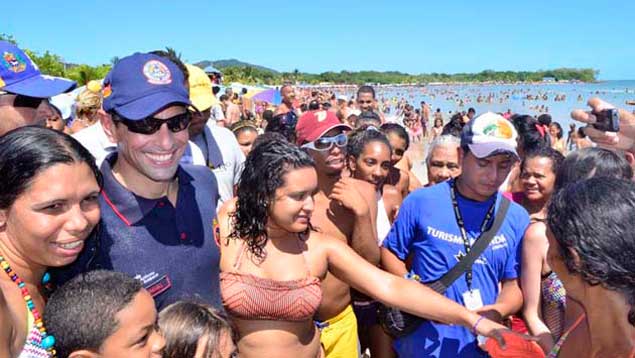 Since the election of Henrique Capriles Radonsky as the presidential candidate, on the Primaries that took place on February 12, 2012, the verbal attacks and incitement to violent acts against Capriles and his followers, coming directly from President Hugo Chavez, have been continuos and permanent and are becoming increasingly stronger as Chavez - terminally ill with cancer, but in denial of his condition — realizes the great pull that his contender, 20 years his junior, full of energy, optimism and drive, has over the masses.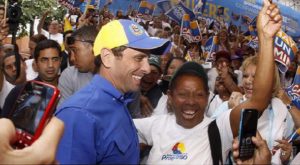 Chavez also had that traction once, more then a decade ago, which has decreased considerably since he bitterly deceived his own people, trashing down their hopes and dreams with false promises.
Hugo Chavez proved to be what so many always claimed that Chavez was, is and always will be, a charlatan and a pathological liar; turned murderous and dangerous even to himself, with all his poisonous and toxic hatred and resentment against all those who oppose him and mainly against the rich and more aristocratic, sophisticated members of the Venezuelan society, to which Henrique Capriles Radonsky also belongs to.
All this uncontrollable wrath Chavez bears against whom he considers his enemies, unfortunately has turned against him, now suffering from an incurable disease and strange form of cancer.
Chavez's regime's policy towards Israel and the Jewish community has always been stained with anti-semitic overtones; therefore the relationship with the Venezuelan Jewry is very strained and practically non-existent. Besides that Chavez has given safe haven in Venezuelan territory to Islamic terrorist groups such as Hamas and Hizbollah.
Ironically and to add more fuel to Chavez's ire and to his corrupt entourage of parasite thugs, as well as to his government members' disgust , Henrique Capriles Radonsky, even though he was raised Catholic, from both sides, mother and father, descends from Jews. One more motive to nurture and increase Chavez's vitriol attitude against his opponent Capriles.
Venezuelan Jews have always felt very grateful to Venezuela who has welcomed them with opened arms and an open heart. Among those were Henrique Capriles Radonsky's maternal grandparents, who also learned to love and give it all to the country that saved them from the Holocaust. Reason why Henrique's grandmother had such a strong influence on him, by nurturing his  willingness to become a public servant, to help free and bring progress, security, education and peace to our present embattled nation. Capriles never met his grandfather Radonsky who died many years earlier.
Chavez's insulting speech against Israel and subsequent expulsion of their embassy's staff in Venezuela, as a reaction to Israel's invasion of Gaza that took place in 2009, was an incitement and a sign of approval for  Chavez's violent militia groups to perpetrate vandalic acts against the Jewish community, such as the desecration of one of Venezuela's main and oldest Caracas synagogue: Tifereth Israel.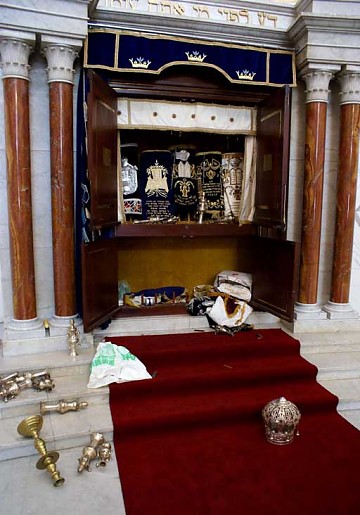 This same situation is now being repeated and directed against Capriles Radonsky and his team, who were met with gun shots in their  rally in Cotiza. Their attackers are well known members of the Chavista's party PSUV, who also destroyed and stole the cameras from the opposition's  media and TV station that was recording the rally, so they won't be recognized.
But the Chavistas couldn't do so with all the journalists and camera men  that were in the very spot where the criminal acts took place; and some newsmen could get away with recordings and tapes that now are helping to identify the criminals and guilty government followers and officials.
So far the response of the government besides sending hit men to the opposition rallies – instead of offering protection to the presidential candidate as in any normal society and nation — has been of accusing Capriles and his team of provoking the incident by penetrating Chavez's territory and creating what the regime calls a 'media show' to draw attention.
What Chavez and his regime didn't count on, was that proof in video and photos of the recognizable and some pretty well known members of their political party PSUV that perpetrated this infamous act, would be saved from the hands of the Chavistas hordes.
None-the-less – and I include myself among those that support Henrique Capriles Radonsky — and in spite of Chavez's animosity against all of us, I unite my voice to Henrique Capriles in wishing President Chavez "good health and a long life". We rather defeat him with votes and not with cancer, so that Chavez can see with his own eyes the so well deserved and outstanding changes that  will start to happen when Capriles will become our next Venezuelan President.
Now, lets the I CHING, the Book of Changes and Unchanging Truth, by Master Hua-Ching Ni, have the last say.