SEAN PENN, DANNY GLOVER, OLIVER STONE, FERNANDO SULICHIN and HARRY BELAFONTE, I want to dedicate my post to you…
Unfortunately, all of the good work you are doing for humanity will be stained and underminded if YOU DO NOT WAKE UP & SMELL the VENEZUELAN COFFEE : THE THREAT that CHAVEZ'S REGIME entails to the USA and to the whole world…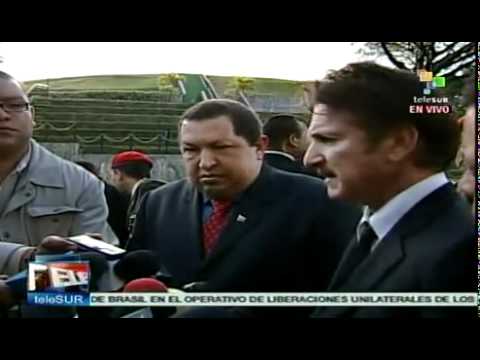 Open your eyes to today's Chavez's Venezuela and stop changing the course of History by portraying a reality that doesn't exist… With your celebrity status you influence  millions of souls and minds and because of it, your duty is to tell THE TRUTH…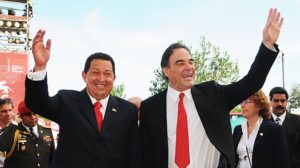 Venezuela has become an outlawed narco-state ruled by narco-generals and government officials that not only have given help and safe haven to narco-terrorist groups, as the Colombian FARC and the ELN guerrilas, but have profited from drug trafficking, as well…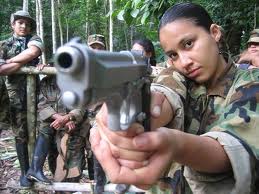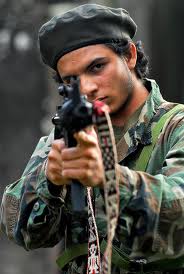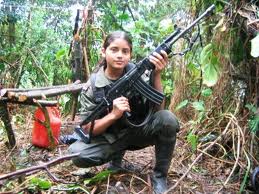 Chavez himself has allowed and supported them. Being Chavez the main link between the Latin American narco-guerrillas and  the Islamic terrorist groups such as Hamas and Hezbollah, now operating in Venezuela. They have training camps and money laundry businesses, greatly profiting from drug trafficking, meanwhile they're plotting ways to attack and destabilize the USA and its allies.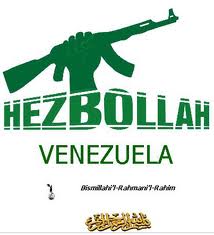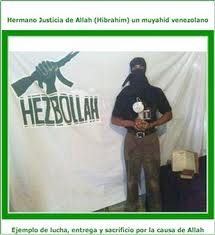 Please, for more details read my article:
"TODAY'S VENEZUELAN ARMED FORCES ARE COMMANDED BY NARCO-TERRORIST BOOTS".
Recently, a judge from the Venezuelan Supreme Court, Eladio Aponte Aponte, has defected and given himself up to the American authorities and the DEA.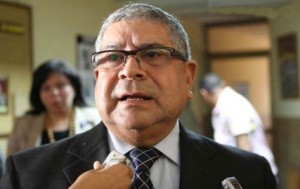 Aponte Aponte has escaped Chavez's regime who was going to use him as a scapegoat in the trial of one of the most wanted drug traffickers of the region: Syrian-Venezuelan, Walid Makled.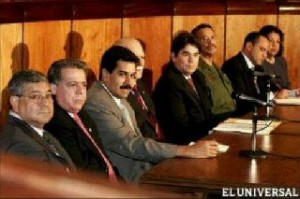 In the photo Aponte Aponte in a Chavez's regime cabinet meeting…
Aponte Aponte  is providing documents and evidence of how he was used – even by Hugo Chavez himself — to protect and support the narco-Colombian guerrillas and all those Venezuelan government and armed forces officials  who profited greatly in  the process; with the excuse that it was for a good cause: bringing damage and disarray to the USA society and its allies.
Please watch in the following video THE SECRET STORIES OF THE VENEZUELAN JUDGE ELADIO APONTE APONTE… Interview for SOiTV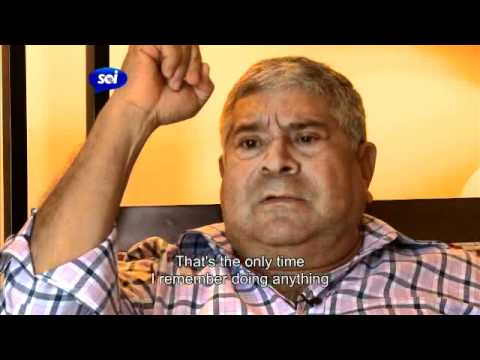 Aponte Aponte has become a victim in the hands of his own peers, by the rifts and power struggle that is taking place inside the Chavista party PSUV, since the constant absence of Hugo Chavez who is mostly governing Venezuela by Twitter, from Cuba.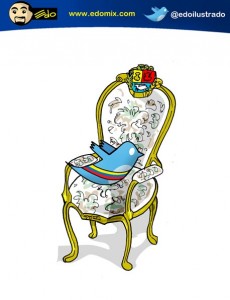 Chavez, who is fighting for his life, is getting radiation treatments in Cuba, not in Venezuela, where he fears that he might get killed, so much animosity he has created in his own country among his nationals.
Even though the Chavista regime has tried to keep it as a secret, Chavez's aggressive cancer is a fact and it is of common knowledge that his life is in peril.
Sean, Danny, Oliver, Fernando, Harry… It's well known that Hugo Chavez buys consciousness. You are better than that, I HOPE!!!…
If it's about dollars, read the stories of the people of Venezuela, listen to them, from the very same people of the streets. Walk among the Venezuelans and ask them what is in their hearts and in their minds…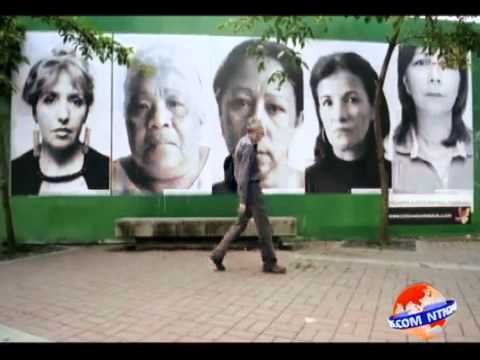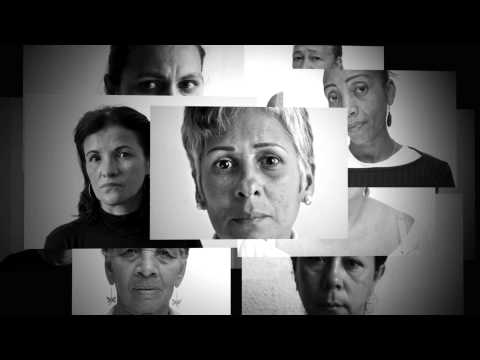 If you would bring those stories to the world, besides helping humanity and mainly the Venezuelan people – by making a difference with your movies — it will grant you not only the fame you already have, but many more material rewards that you will be able to invest in your causes and prevent you from having to use the infamous Chavez's drug monies he has given you.
Monies that are dyed with the blood of those that every day die by the uncontrollable violence that's destroying our people. Ironically, mainly those hopeful, who once voted for Chavez…
Don't be fooled by the THERESIENSTADT Hugo Chavez tries to bring to your awareness… THIS IS NOT THE REAL VENEZUELA! Like Theresienstadt was not the Germany Hitler tried to impose as a reality to the rest of the world…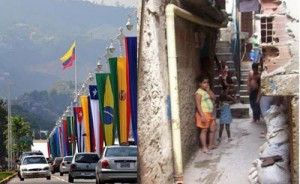 LEFT: The ELEGANT, CLEAN ROADS through which the CELAC GUESTS would cross to go to the Conference… RIGHT: A BARRIO after 12 years of CHAVEZ…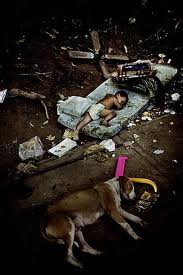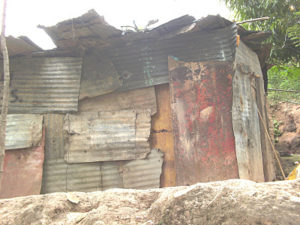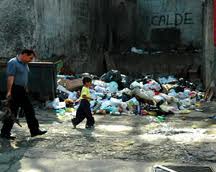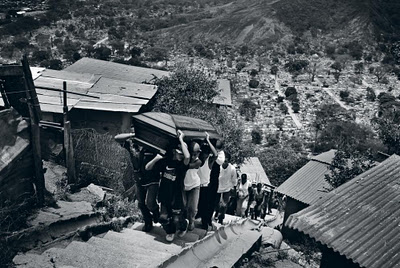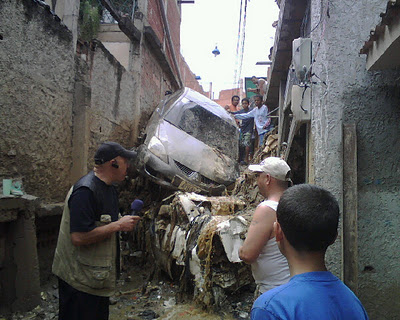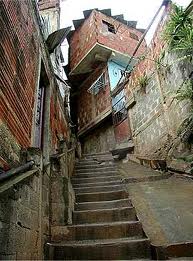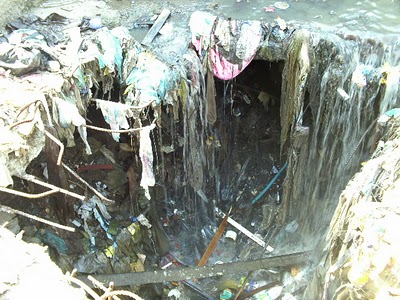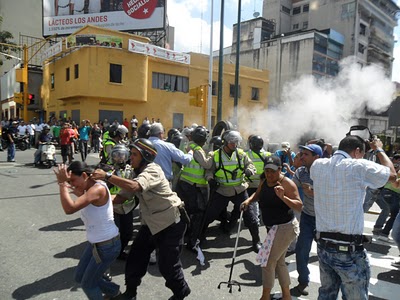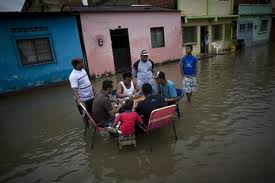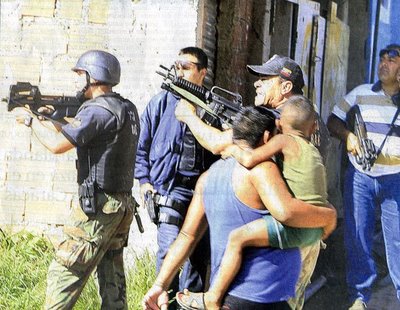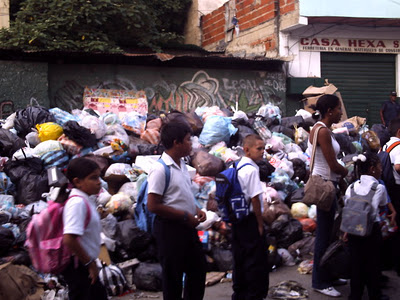 Less you, than anyone else, Sean, Oliver, Fernando, should fall into Chavez's trap, when most of you come from Jewish descent…
Chavez has offended you in your Jewishness, over and over again. Desecrating synagogues. Publishing horrendous anti-semitic lies in the Chavista news media. And the last abuse is the constant insults and offenses directed  to the Venezuelan opposition leader HENRIQUE CAPRILES RADONSKY, candidate for the Presidential Elections of October 7, 2012.
An enraged and out-of-control Chavez – at the top of his lungs — has screamed at Capriles: "Majunche" – Venezuelan slang for low life — and  "Pig", alluding to the name given to the Jews – that escaping persecution — converted to Christianity.
Henrique Capriles Radonsky is from Jewish descent from both parents, but raised Catholic. His grandparents from his mother side were Holocaust survivors.
What is Chavez so afraid of? The photos I'll post bellow speak for themselves: Henrique Capriles Radonsky is stealing the heart and will of the Venezuelan people, deceived by all the lies, the violence and misgovernment of a pseudo democracy.
Today's Venezuela is a society divided by the hatred and foul play of a bitterly vindictive 'caudillo', Hugo Chavez, that comes from social resentment and senseless immoral capriciousness.
NOW IT'S YOUR TIME TO SMELL THE COFFEE!!!…
Photos of HENRIQUE CAPRILES RADONSKY: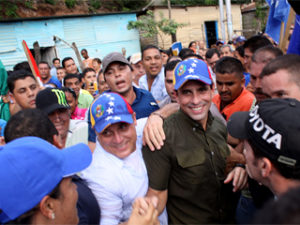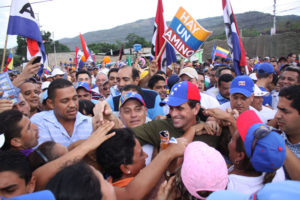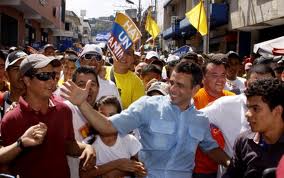 As Chavez's political and possible physical and imminent death becomes more real, the disintegration, implosion and power struggle inside his outlawed regime, and amidst his party PSUV and worse of all, inside the armed forces, is also becoming more evident.
Our democratic armed forces are sequestered by a few narco-generals that are commanding the institution with an iron fist, as well as by terror and threats.
THE CASTRO-CHAVISTA FAKE AND EVIL REVOLUTION, THAT HAS BROUGHT INVOLUTION NOT ONLY TO VENEZUELA BUT TO MANY OTHER COUNTRIES OF LATIN AMERICA, IS ABOUT TO COLLAPSE, bringing with it dire consequences that can affect the whole hemisphere.
The upper echelon of the Chavista regime, in their desperation not to loose their already diminished power, acknowledge that not only will they loose their political posts but also their freedom and even their lives once indicted – not only in Venezuela — but in an international court of law.
Diego Arria, ex-governor of Caracas and a Venezuelan diplomat – who represented our country at the UN during the early 90's — has filed charges against Hugo Chavez at the International Criminal Court in The Hague, indicting him for crimes against humanity.
The Chavistas are clenching their fists around anything they can hold on to; and against all of which the opposition is trying to do to gain the will of the Venezuelan people, as to achieve a victory in the next presidential elections of October 7, 2012.
Dozens of social programs were created by Chavez to lure back the people that has given up hope on his regime. Social programs that are a temporary fix to gain voters, which will be hurting the country's economy in the long run.
Chavez has pawned Venezuela's destiny to China, Iran, Russia. Drowning us in debt, meanwhile he has given away millions of dollars to other Latin American countries like Cuba, Ecuador, Bolivia, Argentina and Nicaragua, to advance his Castro-Chavista anti-American Revolution = INVOLUTION!!!
Even though Venezuela is so rich in oil and other natural resources, the government's mismanagement, the expropriations and nationalization, as well as the theft by the regime of private businesses, corporations, financial institutions, plus the very recent new reform to the constitution's labor law, suffocates the already poor incentive of nationals and international investors, to create and make business in and with Venezuela.
Unfortunately, this scenario cancels the possibility of having in Venezuela more productivity, manufacturing and job creation. Therefore, augmenting the already extremely high levels of inflation and product costs, because today, Venezuela, imports most of its basic needs.
CHAVEZ SIGNS NEW LABOR LAW: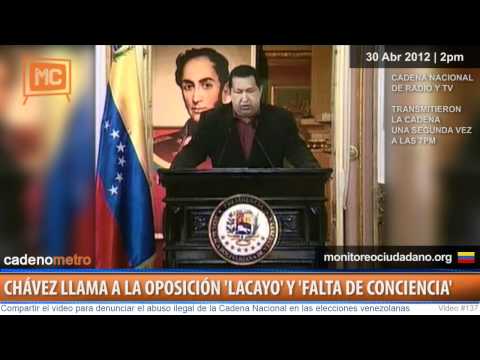 Every single expropriated by the government or nationalized business, corporation, financial institution, productive cattle ranch or private farms – once in the hands of the Chavez's regime — has miserably failed and left hundreds of workers without jobs.
CHAVEZ EXECUTING EXPROPRIATION ORDERS: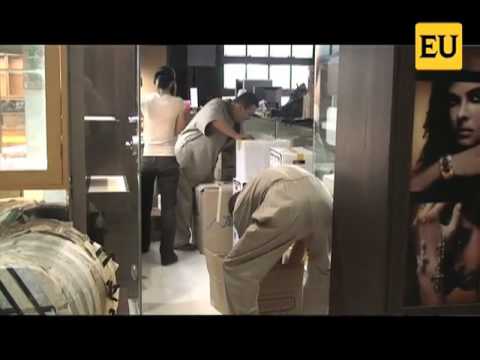 VENEZUELA WAS ONCE A PROSPEROUS COUNTRY, FULL OF PROMISES AND SOUGHT AFTER BY INVESTORS FROM ALL OVER THE WORLD… THE BIGGEST INTERNATIONAL CORPORATIONS AND COMPANIES CAME TO MAKE BUSINESS IN VENEZUELA… NOW-A-DAYS, WHAT'S FLOURISHING IS THE DRUG TRAFFICKING BUSINESS AND THE INFORMAL RETAILERS THAT OPERATE IN ASSIGNED SECTORS, ALMOST SEVEN MILLIONS OF THEM, WHO HAVE NO BENEFITS, HEALTH INSURANCE AND SOMETIMES TO SURVIVE AND BECAUSE OF THE LACK OF A DECENT JOB, FALL INTO ILLEGAL ACTIVITIES, SO THEY CAN BRING FOOD TO THEIR FAMILY'S TABLE…
Hundreds of protests a month rattle our towns and cities. Venezuelans, in organized rallies, manifest their disgust and disappointment for the false and unfulfilled promises of Chavez's almost defeated regime. Which, hypocritically, has cornered the private entrepreneurs, drowning them  amidst senseless and arbitrary regulations,  that the government itself doesn't even comply  with, in regards to their own public employees.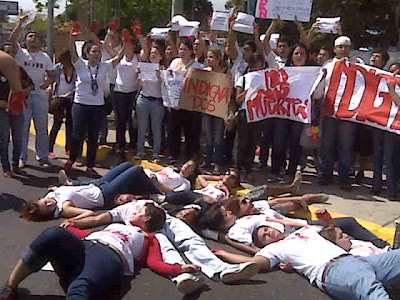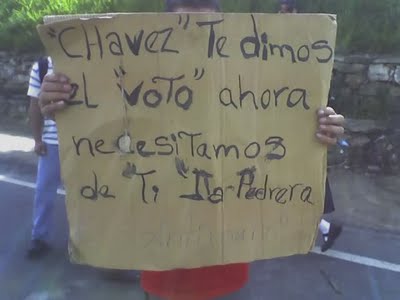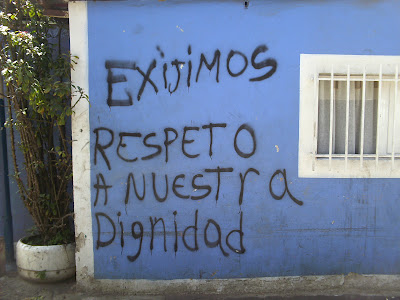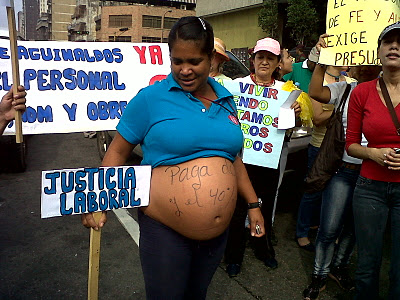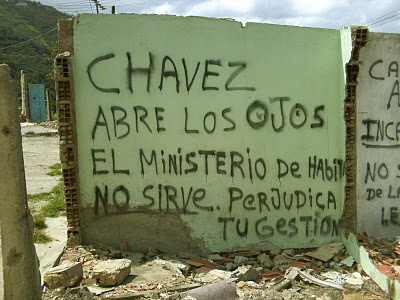 Government workers have also taken to the streets to protest for the lack of payment of their benefits and even monthly payroll; and also to denounce the violation of their rights by the government itself.
What makes it even worse, those public employees are being watched and threatened, in case they do not vote for Chavez, or overtly criticize Chavez and its regime, or doesn't show up in the rallies and marches organized by the Chavistas… They can loose their jobs and are punished in so many other ways…
OPPOSITION RALLY AGAINST CHAVEZ'S REGIME:
The opposition's press is constantly suppressed and attacked in Venezuela, or fined with such a huge amounts of monies that it's clear that the intent is to bankrupt them.
Being Globovision one of those opposition's TV channels and digital press. Globovision was fined with $2M because they took the risk to faithfully comply with their journalistic oath: Reporting and informing only THE TRUTH. Specifically, on what is going on in our Venezuelan broken down penitentiary system.
Globovision brought to the general public's knowledge, how CHAVEZ'S HUMANE REVOLUTION, has confined thousands of prisoners in a inhumane condition and locations. Where almost daily bloody inmate revolts take place. Most of the time these revolts turn out deadly for those prisoners that are not lucky enough to escape.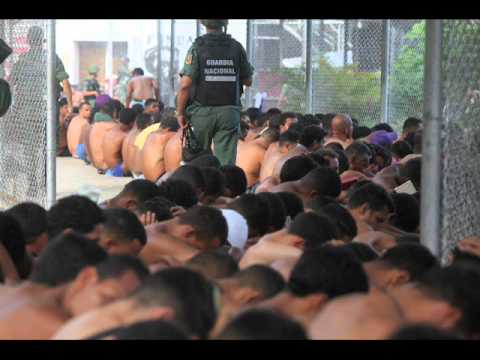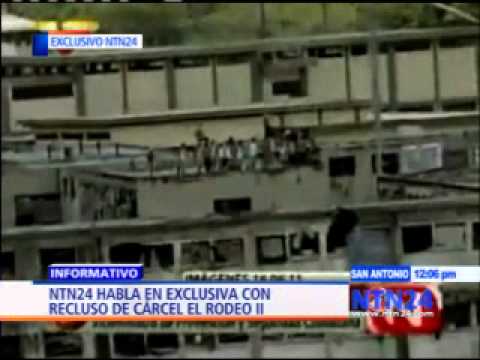 To make matters even worse, Chavez named as Prison and Penitentiary Minister, a sinister character and bitterly fierce anti Venezuelan opposition and Chavez's loyalist, Iris Varela; who actually looks like a prison guard.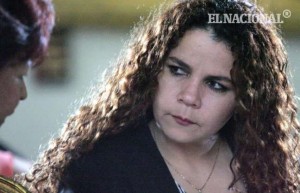 Varela has sworn to destroy the rich and wealthy Venezuelan oligarchy and old aristocratic families. Wish that has or will never materialize, at least during the Chavista regime…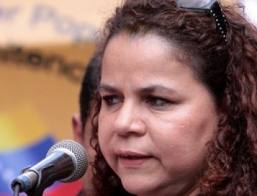 Meantime and during the 13 years that this nightmarish ruling has lasted, Iris Varela has become as wealthy or even more than those families she so much resents and persecutes for their class and noblesse… Even though she tries very hard to look and live like them…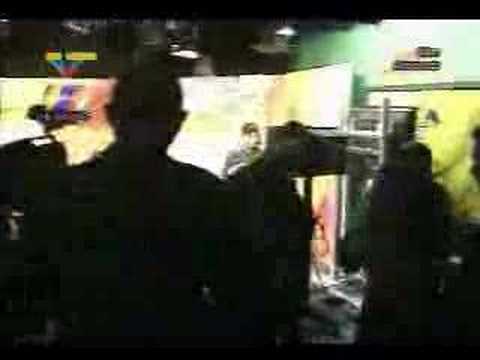 Penitentiary Minister Iris Varela attacking the host of the show CAFE CON AZOCAR, because she didn't like one of his questions?!…
Iris Varela's new acquired affluence has its origin in corruption and theft, contrary to her declared enemies of the Venezuelan aristocracy, whose wealth is a product of hard work and continuity of their businesses and enterprises, passed on from parents to children for many generations…
The Chavistas like her, for years have been stealing from the country's treasury what belongs to the Venezuelan people, the same people that voted for Chavez. Many of them are still starving and living bellow the poverty line…
In this climate of uncertainty and pent-up rage, violence and frustration, the opposition through its presidential candidate Henrique  Capriles Radonsky, is trying by non-violent means and democratically, win the October 7, 2012 elections.
Chavez and his regime, on the other hand – who are in the loosing end — are trying by all means to create scenarios and act out bravados to create unease and destabilize the country, looking for ways to bring the opposition to its knees and never relinquish  power.
Declarations such as the ones the Venezuelan Minister of Defense and narco-general Henry Rangel Silva has stated, not once, but several times, that the Venezuelan Armed Forces are undeniably Chavistas and that an opposition government will never happen again in Venezuela, is a very clear sign that Chavez and his bandit regime do not intend to give up their power to a legitimate elected opposition winner.
Barely two weeks ago, the walking ancient zombie of Fidel Castro and Chavez's mentor, who has lots to loose if Chavez dies and the regime dies with him, also gave us a piece of his mind. Castro threatened Obama by stating in his weekly REFLEXIONES column, that lots of blood will be shed if Obama meddles in the affairs of Venezuela and allows the opposition to take over.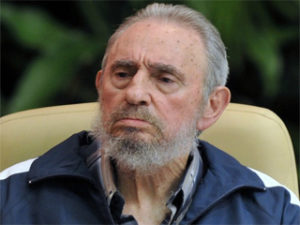 Fidel repeated almost verbatim what Rangel Silva said so many times, that the Venezuelan oligarchy/oposition will never come back to rule the country's destiny.
WILL VENEZUELA BE ON THE BRINKS OF A CIVIL WAR IN CASE HENRIQUE CAPRILES RADONSKY WINS THE ELECTIONS?…
For years, Chavez purged from our armed forces those whom he considered were not loyal to him, so that he can create a totally and ideologically dependent army on his Revolution… Is all of the armed forces actually with Chavez and will come out to wage war against a victorious opposition?
Chavez and the upper echelon of his government and armed forces are very heavily involved with the Colombian narco-guerrillas, as well as with groups like Hamas and Hezbollah. All of this terrorist groups are operating in our country and through out the region. Interconnected. With training camps inside our territory and waiting just for a word from Chavez to join him in a civil war against the Venezuelan opposition, as a way to return the favors received from Chavez's regime, as well as to fight for their own interests in the Venezuelan territory; which is their main route for their drug trafficking international expansion.
Fidel Castro as he has done since he came into power in the late 50's, early 60's, has always extended his guerrilla war to Venezuela, killing hundreds of our nationals. Today, Fidel, thanks to Chavez, practically has become the PRESIDENT'S PRESIDENT. Nothing in Venezuela moves without Castro's approval and without his previous consultation.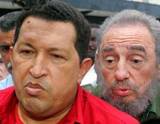 Venezuela as a nation, its Embassies, public and governmental institutions, mainly the Venezuelan armed forces and its security apparatus, are invaded and totally controlled by the Cuban G2.
Chavez's ties with Iran, Russia and China, is not only for commercial reasons, but they are Chavez's regime main providers of war arsenal and in the case of Iran, nuclear as well… Will these countries – that have so much monies invested in Venezuela — also join the Chavistas and Cuba's war against a victorious Venezuelan opposition???…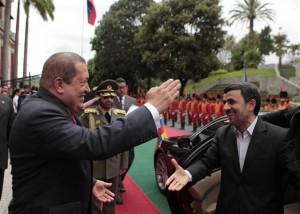 And what about the Latin America countries that Chavez supported with millions of dollars with our oil monies?… At the expense of our own people, who are starving and living in miserable conditions, and only for the sake of the expansion of the Castro-Chavista phony and deceiver Revolution… Will those countries: Ecuador, Bolivia, Argentina, Nicaragua, and other traitors of democracy and freedom join Cuba and the Chavista regime to fight the winning Venezuelan opposition?
But maybe all those foreign forces won't have to be bothered because Chavez already created his own militias and violent groups among his Venezuelan followers.  They operate and have seized control of certain sectors of the nation, claiming full autonomy over their territory and the people who live inside of them.
A mural with a Virgin Mary and baby Jesus holding a rifle is the emblematic symbol of some of those death squads and of the sectors dominated by them. This militants have been brain washed to obey and defend Chavez and his Revolution to the bitter end.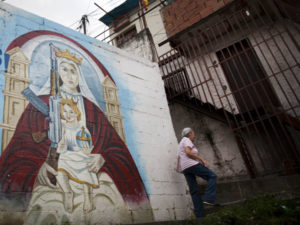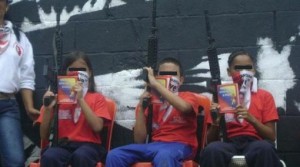 Will we, the Venezuelans, be able to defeat and neutralize one by one all the antagonistic forces that – like in a pressure cooker — are boiling at the very core of our conflicted and divided society, which is about to erupt?
Henrique Capriles Radonsky is going to rule from the Center Left. His message is one of Peace and Reconciliation. Venezuela needs a change and Capriles is the man whom most of the Venezuelan people placed their hopes in to achieve that goal. Capriles will most surely bring that so much needed change to the embattled Venezuela…
Any attempt to frustrate the will of the majority of the Venezuelan people will not only endanger Venezuela, but the region as well, and therefore the whole world.
Already Chavez is considering leaving the International Commission of Human Rights. If he does, he will be leaving the Organization of American States. Chavez does not want to be ruled by them and comply with their regulations.
He already has committed our armed forces to an irregular peripheral warfare training, separating and isolating Venezuela and many countries of the region from the USA and its allies conventions and war codes.
Iran, together with Islamic terrorist groups, have control in the region thanks to Chavez and might be pointing their nuclear weapons towards America in a very short period of time…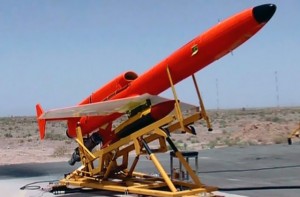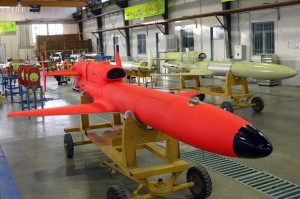 WATCH OUT USA!!!… WATCH OUT…
(stay tuned, to be continued : Venezuela's Political Prisoners and Armed Forces dissidents)…