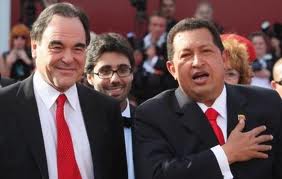 OLIVER STONE quote: "WITH CHAVEZ, LIVING STANDARDS IN VENEZUELA, GONE UP"
Is Stone on stimulants, drugs, or is it the thousands of $$$ Chavez's regime 'stimulated' Stone with that's placing those words in his mouth???…
Has Stone ever spoke to the Venezuelan Opposition to find out what the other side has to say???
According to Oliver Stone, the majority of Venezuelan's LOVE CHAVEZ!!!… Reason why he won all the elections so far. Stone predicted the same for Chavez's SUCCESSOR, NICOLAS MADURO. Whom Stone says, will also win with a landslide…
STONE NEVER MENTIONS THE MANIPULATION AND INTIMIDATION USED TO RIG THOSE ELECTIONS…
Oliver Stone has been asked many times about the constant protests in Venezuela. About  the inflationary crisis, the poverty still existent, the hunger strikes, the rampant violence and the overwhelming corruption, plus the violation of human rights and the scarce freedom of speech. Stone is also being reminded about the political prisoners, as well as of so many other maladies that the Venezuelan society is suffering thanks to Chavez and his outlawed regime. To all of it, shamelessly, Mr. Stone has the chutzpah to answer that there's a "VERY SMALL and VERY VOCAL OPPOSITION" that tries to bring down all the good Chavez brought to the region, using untruthful and dirty propaganda…
Meantime, Oliver Stone is getting millions of dollars from the Venezuelan regime to write, direct and produce a propaganda film about Chavez. The purpose of this movie is to present the late Venezuelan caudillo as a savior and liberator of the Americas. Practically the  reincarnation of Simon Bolivar. When in reality what Chavez was is a dictator, aggressor of Venezuela's democratic institutions and violator of the most basic human rights.
Hugo Chavez only brought devastation, violence and crime to Venezuela and many other South American countries, by imposing the failed and murderous Castro-Communist regime.
Chavez gave away Venezuela's sovereignty to Fidel and Raul Castro who seem to be, as rumors have it, the ones that actually killed him.
Chavez was, like Nicolas Maduro is now, the Castro's puppet. Together with them he created the fiendish and infernal Castro-Chavismo.
Chavez went against their wishes when he decided to unify Latin-America under the Gran Colombia; Simon Bolivar's dream. Chavez dared to defy the Castros and paid for it with his life.
Fidel Castro's egotistical wish is to unite Latin-America and name it the Gran Cuba (Great Cuba); as his own and only legacy which he will not by any means share, not even with Simon Bolivar.
For Mr. Stone's information, we, the Venezuelan opposition are the majority. Brutally suppressed in many ways. As well as our humans rights are violated by the minute.
(I'm not quoting, but narrating what Oliver Stone said in his CNN interview, this morning: 04/01/2013)…
Oliver Stone also dared to say that the corruption in Venezuela is nothing compared to the corruption that we endure in countries like the USA… Quite an expert in the subject!!!…
He also says that CHAVEZ will be mourned as a NATIONAL FIGURE and recognized as THE ONE that lead and promoted the BOLIVARIAN REVOLUTION that changed Latin-America forever. Which is totally true!!!  Statement that will prophetically happen in the years to come. The Castro-Chavez Latin American countries will have to do damage control to save and restore their homelands in every single level of their existence.
To end, Mr. Stone reminded the world how bad things were in Venezuela and how now, instead, THANKS TO CHAVEZ, HOPE and CHANGE has finally arrived, not only to the Venezuelans but also to the region.
Mr. Stone, if you ever come to read my comment, I'd like to ask you a favor, if you really want to understand the history of a country, that's not even yours, YOU NEED TO TALK TO ALL PARTIES AND HEAR WHAT ALL FACTIONS OF THAT SOCIETY HAVE TO SAY…
You can't be basing your judgement only by listening to one side, UNLESS IT'S FOR HIRE… LETS FACE IT, MONEY TALKS!!!
In our case, that's how Chavez got through 14 years of RE-VIOLATION, not REVOLUTION… Chavez bought his way with THE VENEZUELAN PEOPLE'S MONIES = THE PETRODOLLARS. The Venezuelan poor are poorer today more than ever.
Didn't you see all those shacks on the hills when your plain landed in Caracas, or were you blindfolded???
VENEZUELA IS BLEEDING MR. OLIVER STONE… Please, WAKE UP AND SMELL THE COFFEE…
YOU DO NOT HAVE THE RIGHT TO CHANGE HISTORY AND LESS THE HISTORY OF A COUNTRY THAT IS NOT EVEN YOURS!!!
For more information about CHAVEZ'S VENEZUELA… TAB: VENEZUELA, please go to:
http://www.wakeupworldandsmellthecoffee.com
Facebook Page:               (click link bellow to enter)
Opinion Blog: Wake Up World and Smell the Coffee
Twitter: @wakeupworldblog