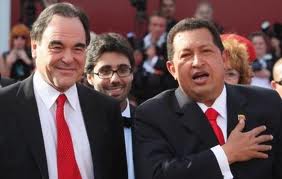 OLIVER STONE quote: "WITH CHAVEZ, LIVING STANDARDS IN VENEZUELA GONE UP"
Is Stone on stimulants, drugs or is it the thousands of $$$ Chavez stimulated Stone with, that's placing those words in his mouth???…
Has Stone ever spoke to the Venezuelan Opposition to find out what the other side says???
According to Oliver Stone the majority of Venezuelan's LOVE CHAVEZ, reason why he won all the elections so far and his SUCCESSOR MADURO will also win with a landslide… STONE NEVER MENTIONS THE MANIPULATION AND INTIMIDATION USED TO RIG THOSE ELECTIONS…
When asked about the constant strikes in Venezuela, the inflation, the poverty still existent, the hunger strikes, the rampant violence and the overwhelming corruption plus the violation of human rights and the political prisoners, as well as so many other maladies that the Venezuelan society is suffering thanks to Chavez and his outlaw regime, Stone recognized that there's a "VERY SMALL and VERY VOCAL OPPOSITION" that tries to bring down all the good Chavez brought to the region, using an untruthful and dirty propaganda…
FYI Mr. Stone, we are, if not the majority in the country, at least half of the country and suppressed in many ways, as well as our humans rights are violated by the minute…
(I'm not quoting, but narrating what Oliver Stone said in his CNN interview, this morning: 04/01/2013)…
Oliver Stone also dared to say that the corruption in Venezuela is nothing compared to the corruption that we endure in countries like the USA… Quite an expert in the subject!!!…
He also says that CHAVEZ will be mourned as a NATIONAL FIGURE and recognized as THE ONE on the VANGUARD OF THE BOLIVARIAN REVOLUTION that changed Latino America forever… Which is totally true and that will prophetically happen in the years to come when the Castro-Chavez Latin American countries will have to do damage control to save and restore their lands in every level of their existence…
To end, Mr. Stone reminded the world how bad things were in Venezuela and now THANKS TO CHAVEZ HOPE and CHANGE has finally come, not only to the Venezuelans but to the region…
Mr. Stone, if you ever come to read my comment, I'd like to ask you a favor, if you really want to understand the history of a country, that's not even yours, YOU NEED TO TALK TO ALL PARTIES AND HEAR WHAT ALL FACTIONS OF THAT SOCIETY HAVE TO SAY…
You can't be basing your judgement only listening to one side, UNLESS IT'S FOR HIRE or INTIMIDATION and LETS FACE IT: MONEY TALKS…
In our case, that's how Chavez got through 14 years of RE-VIOLATION not REVOLUTION… Chavez bought his way with THE VENEZUELAN PEOPLE'S MONIES = THE PETRODOLLARS … The Venezuelan poor are poorer today more than ever… Didn't you see all those shacks on the hills when your plain landed in Caracas, or were you blindfolded???
VENEZUELA IS BLEEDING MR. OLIVER STONE… Please, WAKE UP AND SMELL THE COFFEE… You do not have the right to write and change History and less the History of my country!!!…
For more information about CHAVEZ'S VENEZUELA… TAB: VENEZUELA, please go to:
http://www.wakeupworldandsmellthecoffee.com
Facebook Page:               (click link bellow to enter)
Opinion Blog: Wake Up World and Smell the Coffee
Twitter: @wakeupworldblog