VENEZUELA'S DEFENSE MINISTRY, has been bestowed upon GENERAL HENRY RANGEL SILVA, on January 06, 2012.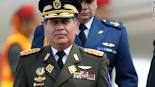 The now Minister of Defense was also honored by the US DEPARTMENT of TREASURY, with the title of  'DRUG KINGPIN' in 2008.
This well deserved denomination, was granted to Rangel Silva, for his remarkable  effort in flawlessly carrying out  the orders of his COMMANDER IN CHIEF, HUGO RAFAEL CHAVEZ FRIAS, Venezuela's Strongman.  
Which consisted in giving support, weapons and  mainly operational assistance, including oil and gas, as well as hospitality and safe haven in Venezuelan territory and its borders with COLOMBIA, to the Colombian NARCO GUERRILLAS associated with the REVOLUTIONARY GROUPS better known as the FARC and the ELN; considered by the Venezuelan regime as their 'brothers in arms.'
Hugo Chavez on January 12, 2008, during his annual address to the Venezuelan people at the Nation's Parliament,  requests to the world to drop – what Chavez believes to be — unjustified accusations against the Colombian Revolutionary Guerrillas: FARC and ELN.
Chavez urges those countries – that according to   Chavez allowed to be influenced by the USA, in cataloguing and naming the FARC and ELN terrorist narco-guerrillas groups — to recognize and give these 'revolutionary militants' the same respect due to any regular armed forces; because as such, they also deserve to have their claims be heard, as well as being properly regarded for. 
WITH HENRY RANGEL SILVA AS DEFENSE MINISTER, WHAT WILL BE THE POSITION OF THE VENEZUELAN ARMED FORCES IN CASE THE OPPOSITION WINS THE ELECTIONS ON OCTOBER  OF 2012? Read the rest of this entry