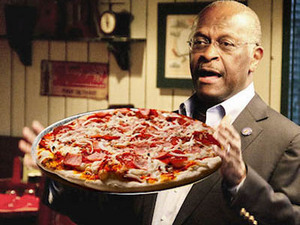 Unfortunately, Herman Cain will have to step down because of the sexual harassment charges against him,  four so far.
Instead, he should have never been supported in the first place, because of his Arrogance, Inflated Ego, total lack of Foreign Policy, or even interest in International Affairs and USA relationships with the rest of the world.
Besides, Cain is another 'Party Pooper Presidential wanna be', with uncontrollable RAGE & SUPER BAD TEMPER + serial killer instincts. Remember the electric fence he wants to build to avoid – by electrocution  – illegal immigration? That's the closest he has come to any USA Foreign Policy… That's it!!!
If Herman Cain were to become President of the USA – since he says that those who have no jobs have only themselves to blame for it  and do not deserve to complain or protest whatsoever —  what will Cain's policy for the unemployed be???
I know… We should ask Sharon Bialek…
Herman Cain, definitely, has all the characteristics of a Dictator.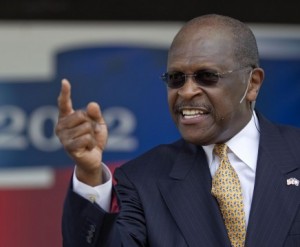 What's the next surprise that awaits us, coming from the Presidential Charade of the Grand Old Party? With Michele Bachmann first, and now, with Herman Cain, can it possibly get any better or even worse than that? 
Herman Cain, Rush Limbaugh, Glenn Beck, are one and the same. What's wrong with these people? Or I should better ask: What's wrong with the people that follow and support them? WHO ARE THEY?
Filed under:
OUT-OF-THE-BOX
,
USA POLITICS
,
USA&WORLD news&views
| Tagged as:
charade
,
dictator
,
electric fence
,
foreign policy
,
GLENN BECK
,
godfather
,
GOP
,
HERMAN CAIN
,
immigration
,
michele bachman
,
party poopers
,
pizza
,
politics
,
presidential elections
,
RUSH LIMBAUGH
,
sexual harassment
,
SHARON BIALEK
,
usa
,
usa economy